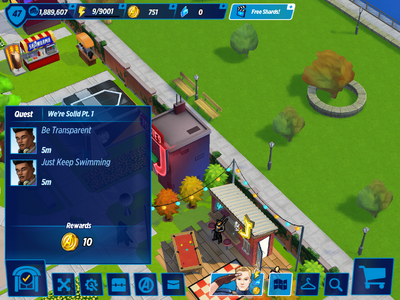 We're Solid, pt. 1 is an Event Quest and part of the Cloak and Dagger Special Event.
Requirements
Edit
| Character | Action | Time | Location |
| --- | --- | --- | --- |
| Cloak | Be Transparent | 5m | Stark Tower (holo display) |
| Cloak | Just Keep Swimming | 5m | Count Nefaria's Palace |
Quest Dialogue
Edit
Pre-Action
Cloak: Kingpin is right. It's getting harder to hold on to a solid form.
Dagger: I wasn't gonna say anything, but... You've been a little transparent lately. And like, if you want to be ghostly I support you, but I'm getting kinda worried.
Cloak: It's going to be okay. I think there's somebody I can talk to.
Post-Action
Viv: You are becoming incorporeal? Is that something you do not want?
Cloak: Turning into a literal void is cool, but everyone needs to be solid sometimes.
Viv: Like during trust falls.
Cloak: And dinner time.
Viv: Forgive me. I did not realize that this was a matter of urgency.
Community content is available under
CC-BY-SA
unless otherwise noted.