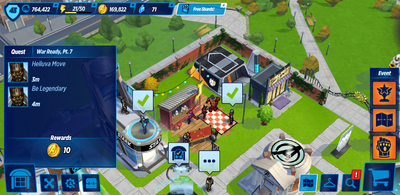 War Ready, pt. 7 is an Event Quest and part of the Infinity War Event.
Requirements
Edit
| Character | Action | Time | Location |
| --- | --- | --- | --- |
| Killmonger | Helluva Move | 3m | Club A (pool table) |
| Killmonger | Be Legendary | 4m | Avengers Dorm (punching bag) |
Quest Dialogue
Edit
Pre-Action
Okoye: Thanos was able to take out half our army in one blow.
Okoye: We should consider a retreat.
Killmonger: I'm not standing down. It's either me or him.
Okoye: There are lives on the line. People who believed in you. This is no time to be selfish.
Killmonger: We all knew what we signed up for.
Post-Action
Thanos: Your army is incapacitated. Quit now and maybe I'll let you live.
Killmonger: I don't need your pity. I'd rather die standing tall than to live a coward.
Thanos: In my existence, I've killed warriors exhibiting the same kind of bravery you've showed today.
Thanos: They're the ones I remember most.
Killmonger: Life is short, so get on with it.
Community content is available under
CC-BY-SA
unless otherwise noted.