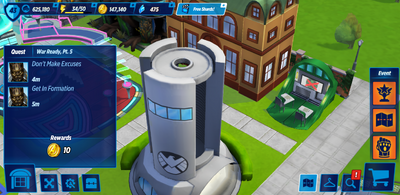 War Ready, pt. 5 is an Event Quest and part of the Infinity War Event.
Requirements
Edit
| Character | Action | Time | Location |
| --- | --- | --- | --- |
| Killmonger | Don't Make Excuses | 4m | Avengers Dorm (right chair) |
| Killmonger | Get In Formation | 5m | Club A (dance floor) |
Quest Dialogue
Edit
Pre-Action
Killmonger: I'm this close to launching my attack on Thanos.
Black Panther: You think this will gain you Wakanda's respect but your efforts are misguided.
Killmonger: At least I'm putting in effort. What are you doing?
Black Panther: I'm working with the Avengers to launch a proper offensive with sufficient resources.
Killmonger: It sounds like you're making excuses while the universe suffers.
Post-Action
Okoye: I heard you need some reinforcements.
Killmonger: Okoye? You're the last person I expected to join my army.
Okoye: I don't agree with the reason you're fighting Thanos, but those are my brothers and sisters on the battlefield. I will protect them at all costs.
Killmonger: Congratulations. You just made the team.
Community content is available under
CC-BY-SA
unless otherwise noted.