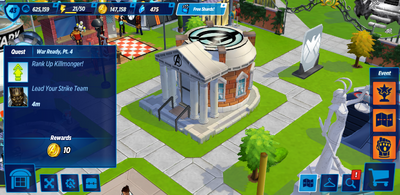 War Ready, pt. 4 is an Event Quest and part of the Infinity War Event.
Requirements
Edit
Rank Up Killmonger! (Rank 3)
1,000 Credits, 25 Punching Bags
| Character | Action | Time | Location |
| --- | --- | --- | --- |
| Killmonger | Lead Your Strike Team | 4m | Stark Tower (holo display) |
Quest Dialogue
Edit
Pre-Action
Nick Fury: This little campaign of yours, I need you to end it.
Killmonger: Why should I listen to you? When's the last time you helped your people?
Nick Fury: I've saved more people than you can count, which is why I know a suicide mission when I see one.
Killmonger: All I see is a punk trying to hold me back.
Nick Fury: You've done that on your own, son.
Post-Action
Nick Fury: If your soldiers are in trouble, I can't promise we can save them.
Killmonger: I don't remember ever asking for your help.
Nick Fury: Then don't say I never tried.
Killmonger: You call that trying?
Nick Fury: No one ever said I had to try hard.
Community content is available under
CC-BY-SA
unless otherwise noted.