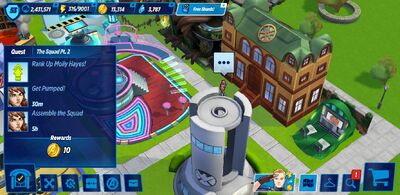 The Squad, pt. 2 is an Event Quest and part of The Runaways Special Event.
Requirements
Edit
Rank Up Molly Hayes! (Rank 5)
20,000 Credits, 100 Science Chemicals
| Character | Action | Time | Location |
| --- | --- | --- | --- |
| Molly Hayes | Get Pumped! | 30m | Avengers Dorm (punching bag) |
| Molly Hayes | Assemble the Squad | 5h | S.H.I.E.L.D. H.Q. (inside) |
Quest Dialogue
Edit
Pre-Action
Molly Hayes: So I tried out for cheerleading at my old school but had, uh, major cramps. I never got to finish my audition.
Cheerleader Tigra: That team didn't know what they were missing. But since we're doing tryouts, I figured we should open them to everyone.
Spider-Girl: Every good cheer squad has gymnasts. Besides, I needed a break from hacking into politicians' emails.
Loki: I'll dominate this team like I dominate the dance floor.
Football Wasp: I'm just here to cheer on the cheerleaders!
Molly Hayes: All right, everybody. Let's step it up!
Post Action
Nico Minoru: Did you make the team?
Molly Hayes: What, did you doubt me or something?
Nico Minoru: Never. Are you gonna start waving pom poms in my face now?
Molly Hayes: Only when your goth girl act gets annoying.
Thanos: Did someone say goth girls?
Molly Hayes: If you start creeping on my friends I'm gonna punch you in your weird wrinkly face!
Nico Minoru: Molly, no.
Community content is available under
CC-BY-SA
unless otherwise noted.