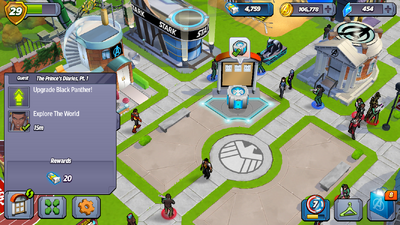 The Prince's Diaries, Pt. 1 is an Event Quest in the Civil War Event. Black Panther wants to get out and about! Hell's Kitchen sounds like a nice place to visit.
Requirements
Edit
Upgrade Black Panther! (Rank 3)
20 Black Panther Habits
54 Vibranium Daggers
32 Hydra Intel
10,375 Vibranium
| Character | Action | Time | Location |
| --- | --- | --- | --- |
| Black Panther | Explore The World | 15m | The Quinjet Hangar (Quinjet) |
Quest Dialogue
Edit
Pre-Action
Black Panther: As you've explored the Wakandan jungle, I must now explore the world. It's the primary reason my father wanted me to attend Avengers Academy.
Iron Widow: Where are you going to go?
Black Panther: Hell's Kitchen sounds nice.
Iron Widow: Things must sound a lot different in Wakanda...
Post-Action
Iron Widow: How was Hell's Kitchen?
Black Panther: Invigorating! I fought alongside many different heroes who had opposing, and sometimes disturbing, approaches to our craft. Do you know they sometimes refer to the city as the urban jungle?
Iron Widow: I've heard that, yeah...
Black Panther: Apparently some sort of criminal kingpin was facillitating the efforts of a nefarious group calling themselves the Sinister Six? Are you aware of this?
Iron Widow: No, I try to keep up, but I've been pretty busy...
Black Panther: Well, fear not, because we thwarted their efforts for the time being.
Iron Widow: I don't fear anything, but thanks anyway. It's nice to see you so excited.
Black Panther: I get quite a thrill from protecting good people, and imposing my will on villains, but my father is very over-protective, and rarely gives me the opportunity. I'm enjoying being what you call a Super Hero...
Community content is available under
CC-BY-SA
unless otherwise noted.