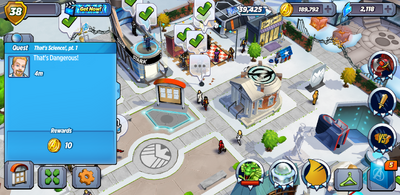 That's Science!, pt. 1 is an Event Quest and part of the Legends Assemble Event. It is the Introductory Quest for Hank Pym.
Requirements
Edit
| Character | Action | Time | Location |
| --- | --- | --- | --- |
| Hank Pym | That's Dangerous! | 4m | Avengers Hall (Roof) |
Quest Dialogue
Edit
Pre-Action
Hank Pym: It feels fantastic to be back in the lab! Let's science!
Iron Man: I would, but I'm working on a set of cosmic armors back at Stark Tower. I'll catch up with you later.
Hank Pym: Start the countdown!
Iron Man: Countdown to what?
Hank Pym: The answer to that question is always a potential explosion!
Post-Action
Black Widow: I knew you kept weapons underneath the campus. What else are you hiding?
Hank Pym: Have you ever visited the Microverse?
Black Widow: Don't dodge the question...
Hank Pym: It's an analagous answer to your question!
Black Widow: I don't understand...
Hank Pym: No one understands anything! That's science!
Community content is available under
CC-BY-SA
unless otherwise noted.