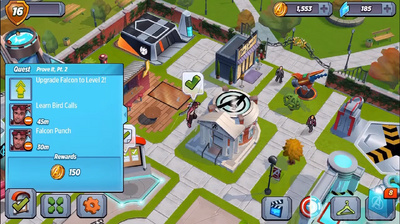 Prove It, Pt. 2 is a main Storyline Quest.
Requirements
Edit
| Character | Action | Time | Location |
| --- | --- | --- | --- |
| Falcon | Learn Bird Calls | 45m | The Timeless Archives (book) |
| Falcon | Falcon Punch | 30m | Avengers Dorm (punching bag) |
Quest Dialogue
Edit
Pre-Action
Loki: What are you hiding, Bird-Man?
Falcon: Nothing. I'm just trying to figure things out. Trying to make myself better...
Loki: Please let me know if I can be of any assistance...
Post-Action
Loki: You can't trust her...
Falcon: I don't even know what you're talking about.
Loki: The Widow-Woman doesn't trust you. She thinks you're weak. She doesn't think you belong at Avengers Academy. The walls have lips, as you Midgardians say.
Falcon: And I should trust you?
Loki: Of course not. But even the Prince of Lies believes you shouldn't lie to yourself...
Community content is available under
CC-BY-SA
unless otherwise noted.