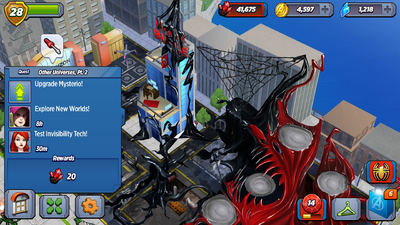 Other Universes, Pt. 2 is an Event Quest and part of the Spider-Man Event.
Requirements
Edit
Upgrade Mysterio! (Rank 5)

30 Speed Symbiote Samples
3,361 Klyntarites
84 Spider Slayers
| Character | Action | Time | Location |
| --- | --- | --- | --- |
| Mysterio | Explore New Worlds | 8hr | S.H.I.E.L.D. H.Q. (inside) |
| Black Widow | Test Invisibility Tech | 30m | S.H.I.E.L.D. H.Q. (inside) |
Pre-Action
Hank Pym: Mysterio! You're both an excellent illusionist, and underappreciated mechanical engineer!
Mysterio: Thanks. Black Widow and I need to use one of your portals to access Earth-1610.
Hank Pym: Ah! An excellent choice! I remember you being one of the only ones who travelled there before!
Mysterio: I don't understand...
Hank Pym: That's science!
Mysterio: So, we can use the portal, or...?
Hank Pym: Of course! After you guess which playing card alternate me is holding behind my back!
Post-Action
Mysterio: That kid isn't gonna be able to fix his whole universe all by himself...
Hank Pym: We'll help him. Or we'll destroy everyone there. We'll play it by ear...
Mysterio: You think it's them or us?
Hank Pym: We'll try to help everyone. And then we'll do what we have to...
Community content is available under
CC-BY-SA
unless otherwise noted.