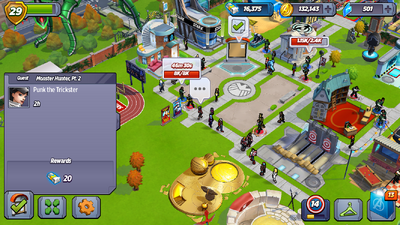 Monster Hunter, Pt. 2 is an Event Quest and the part of the Civil War Event. Sif is still sore about Loki trying to steal her sword—it's time for some payback!
Requirements
Edit
| Character | Action | Time | Location |
| --- | --- | --- | --- |
| Loki + Sif | Punk the Trickster | 2hr | Avengers Dorm (both chairs) |
Quest Dialogue
Edit
Pre-Action
Loki: I'd like to make amends for my behavior back in Asgard, Sif. I should have never attempted to steal your sword.
Sif: I doubt you could even pick it up.
Loki: You and your three idiot friends watched me lift the mighty Mjolnir.
Sif: We paid a Dwarf to make a replica out of aluminium. The handle was a chopped off broomstick...
Loki: I knew that!
Post-Action
Sif: Would you like to finally sincerely apologize for everything you've done to me?
Loki: Not particularly.
Sif: Good. I'll have plenty of more opportunities to toss you around...
Community content is available under
CC-BY-SA
unless otherwise noted.