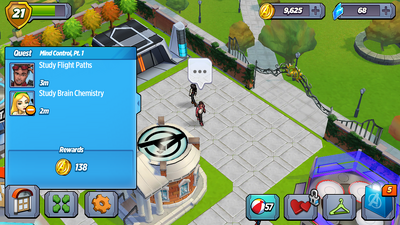 Mind Control, Pt. 1 is a Storyline Quest.
Requirements
Edit
| Character | Action | Time | Location |
| --- | --- | --- | --- |
| Falcon | Study Flight Paths | 3m | The Timeless Archives (book) |
| Enchantress | Study Brain Chemistry | 2m | The Timeless Archives (book) |
Quest Dialogue
Edit
Pre-Action
Enchantress: Why are you heading to the Archives, Bird-Man?
Falcon: To review my flight paths above the timefog to try and find the things that continually disappear and reappear...Why did I tell you that?
Enchantress: Because I'm also interested in the timefog. And we're friends. And perhaps we can be more...
Falcon: I'm never sure if you're gonna kiss me or kill me. And I'm mad at myself for liking that so much.
Post-Action
Enchantress: Care to share the exact location of the most powerful artifact hidden within the timefog?
Falcon: I'm not telling you anything. Even though I really want to for some reason...
Enchantress: I could magically rip the information from your brain, but I respect your discretion and self-control. Fortunately, I know someone who has neither...
Community content is available under
CC-BY-SA
unless otherwise noted.