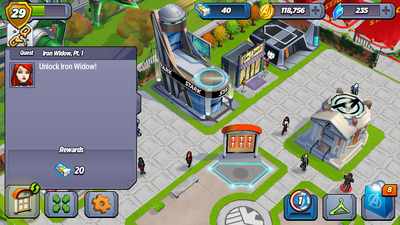 Iron Widow, Pt. 1 is an Event Quest and the part of the limited-time Civil War Event. Black Widow orders Iron Man to make her an outfit that will let her get closer to Hydra (and thus the secrets of the Winter Soldier).
Requirements
Edit
Unlock Iron Widow!

8 Spy Cameras
6 Widow Stars
5 Smoke Bombs
3 Cloaking Devices
2,408 Vibranium
| Character | Action | Time | Location |
| --- | --- | --- | --- |
| Black Widow | Search for Cloaking Devices | 4hr | Paths |
Rewards one Cloaking Device
Quest Dialogue
Edit
Pre-Action
Black Widow: Cap wants me to tell you to make robots, but I want you to make me a suit. Something undetectable so I can get close enough to that Hydra platform to see what they're planning, and free the prisoners.
Iron Man: Sure, I've already designed a Mark 1.7 stealth armor. Has radar-absorbing coating, ECM jamming, and a wave-modifying plasma layer. I was making it for me, so I'll need to take your measurements...
Black Widow: I'm pretty sure you've spent enough time staring at me to know my measurements.
Iron Man: Good point. You want it in hot pink, right?
Black Widow: ...
Iron Man: I'm kidding! I'll see if I can add a sense of humor while I'm at it...
Post-Action
Iron Man: I'm so glad I'm not a Hydra guy right now.
Iron Widow: The armor's great, Tony. Thank you.
Iron Man: So you're Team Tony now?
Iron Widow: I'm Team Make Hydra Wish They Never Messed With Avengers Academy.
Iron Man: That's a horrible hashtag, but I'm glad I'm on your team.
Community content is available under
CC-BY-SA
unless otherwise noted.