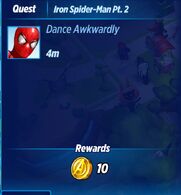 Iron Spider-Man, pt. 2 is an Event Quest and part of the Infinity War Event.
Requirements
Edit
| Character | Action | Time | Location |
| --- | --- | --- | --- |
| Spider-Man | Dance Awkwardly | 4m | Club A (dance floor) |
Quest Dialogue
Edit
Pre-Action
Loki: Brace yourself, Peter Percolator, for I have assembled the greatest lineup of villains in this or any other universe. I doubt even that anatomically unambiguous tin can you're wearing is a match for us!
Loki: First, the carmine cranium, horror of Hydra School, Red Skull!
Loki: Next, the Bling King, a wealthy globe in a white pantsuit, The Kingpin of Crime!
Loki: Lord of Chaos and Darkness and one-time Ghost Rider cosplayer, Dormammu!
Loki: The literal devil, I call him Fisty, it's Mephisto!
Loki: Some nerd Hulk fought one time. Leader!
Loki: And the group's actual leader, me. Loki, God of Mischief and future king of Asgard.
Iron Spider-Man: Okay... I know who some of those people are.
Loki: You alone will face all of us in you greatest battle yet. Whoever drops first will be the loser.
Iron Spider-Man: But these are villains who pushed the Avengers to the limit. I can't possible fight them all at once.
Loki: Fight? Oh, no, no! There is only one way my Sillier Six does battle and that's-
Iron Spider-Man: On the dance floor?
Loki: -On the dance floor! Let's go!
Post-Action
Loki: Not fair! I didn't anticipate what effect your proportional strength and agility of a spider would have on your dance moves.
Iron Spider-Man: I have the fastest feet, the fastest comebacks, and the fastest wrist-mounted adhesive launchers in the whole academy.
Loki: You outdanced my whole supervillain team! King Potato is still lying face down on the floor of Club A.
Iron Spider-Man: Oh wow. I thought Club A had installed some new bean bag chairs.
Loki: Where did you learn those dance moves, mortal?
Iron Spider-Man: MJ taught me some of those moves. As for the rest, Tony put a special setting on my Iron Spider-Man armor. "Spider Boogie."
Loki: Curse your Spider Boogie!
Community content is available under
CC-BY-SA
unless otherwise noted.