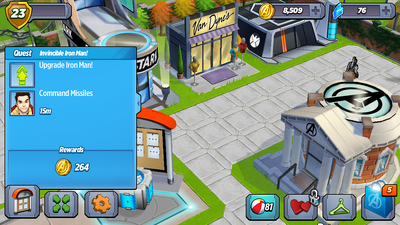 Invincible Iron Man! is a Storyline Quest. In his attempt to take down A.I.M., Iron Man unintentionally allowed them to take over the S.H.I.E.L.D. Helicarriers instead. Time to get serious and fix this!
Requirements
Edit
Upgrade Iron Man! (Rank 5)

Level: 20
Cost: 6,874 Credits
55 Avengers Textbooks
65 Trophies
| Character | Action | Time | Location |
| --- | --- | --- | --- |
| Iron Man | Command Missiles | 15m | The Blasting Range (firing points) |
Quest Dialogue
Edit
Pre-Action
Iron Man: I just wanted to shut down A.I.M. before they hurt anyone...
Nick Fury: You wanted revenge for some stunt at a little fair, so you opened a signal that let them hack my system, and hotwire my hidden Helicarriers. You got played, Stark. And now the whole world's in danger.
Iron Man: I'll get them back. I didn't even know you had more Helicarriers...
Nick Fury: There's a lot you don't know. Finish that suit, get your missiles working, and get ready to take down A.I.M.
Post-Action
Nick Fury: Nice suit.
Iron Man: Thanks to you. Fear of a severe beating motivated me to finally finish it.
Nick Fury: A.I.M.'s signal controlling the Helicarriers seems to be coming from the city. Shut it down, and get my ships back. Captain America will lead the mission.
Iron Man: What?! This suit is unstoppable! I don't want his help!
Nick Fury: I don't care what you want! I'm taking no chances! Work with him, and make sure A.I.M. knows to never mess with Avengers Academy.
Community content is available under
CC-BY-SA
unless otherwise noted.