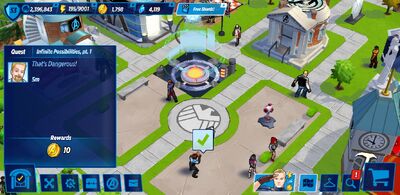 Infinite Possibilities, pt. 1 is an Event Quest and part of the Legends Assemble Event.
Requirements
Edit
| Character | Action | Time | Location |
| --- | --- | --- | --- |
| Hank Pym | That's Dangerous! | 5m | Avengers Hall (roof) |
Quest Dialogue
Edit
Pre-Action
Hank Pym: Gather the greatest scientific minds at the Academy, Tony. I'll do my best to convince some of our more stubborn recruits across the globe.
Iron Man: What's your plan? Don't tell me you're just gonna yell "That's Science!" at them.
Hank Pym: ...
Iron Man: Really? Your plan for recruiting the world's greatest super-scientists was to yell "That's Science!"?
Hank Pym: Do you think they'll like "That's Science!" T-shirts?
Iron Man: ...Yeah, probably. Everybody likes free T-shirts.
Post-Action
Hank Pym: Were you able to gather the Academy's brightest minds?
Iron Man: Yeah, the Sinister Six guys gave me a hard time, but I think everyone's on board. Did you recruit anyone new?
Hank Pym: I think I finally convinced two longtime holdouts to join the fight. They say they need more time to make a proper entrance, but they may surprise us.
Iron Man: Let's get this super-science-super-team show on the road...
Hank Pym: Go go science bros!
Iron Man: You should probably stick to the one catchphrase.
Community content is available under
CC-BY-SA
unless otherwise noted.