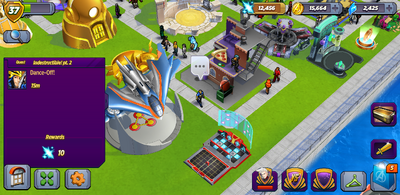 Indestructible!, pt. 2 is a Event Quest and part of the Guardians of the Galaxy Vol. 2 Event.
Requirements
Edit
| Name | Action | Location | Time |
| --- | --- | --- | --- |
| Star-Lord | Dance-Off! | Club Galaxy (dance floor) | 15m |
Quest Dialogue
Edit
Pre-Action
Ayesha: Armor will not save you. Accept the inevitability of your destruction.
Galactic Star-Lord: Nah. I feel pretty good about this. I beat Ronan with a puffy jacket and sweet dance moves, so you won't be a problem. Especially now.
Ayesha: I've seen better dancers on Dyofor.
Galactic Star-Lord: I mean, yeah, Judans are awesome dancers. Their psychic powers and four arms give them really good balance. Also, they look like big potatoes.
Post-Action
Mantis: Did you just show up the cranky gold lady with the power of dance?
Galactic Star-Lord: And the power of my super awesome armor.
Mantis: Let's try bumping fists for fun!
Community content is available under
CC-BY-SA
unless otherwise noted.