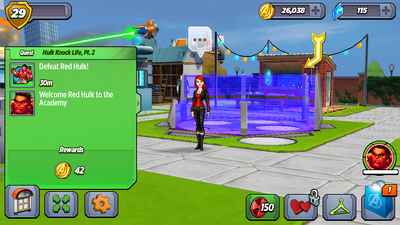 Hulk Knock Life, Pt. 2 is an Event Quest and part of the limited-time Gamma Attack! event. Black Widow is about to finish off Red Hulk!
Requirements
Edit
| Character | Action | Time | Location |
| --- | --- | --- | --- |
| Black Widow | Defeat Red Hulk | 30m | Leader's Ship |
Welcome Red Hulk to the Academy
Quest Dialogue
Edit
Pre-Action
Wasp: You're about to finish off Red Hulk, aren't you?
Black Widow: ...
Wasp: I love scary, intense, silent Natasha even more than once in a while nice Natasha!
Post-Action
Leader: You've allowed yourself to be beaten by two females, and a powerless peon strapped to a rudimentary jet-propulsion system! Get your revenge!
Red Hulk: Maybe after I thank 'em for breaking your mind control...
Leader: Focus your feeble mind! We came for Hulk! You seek vengeance! I want to stop the only creature capable of disrupting my brilliant ambitions!
Red Hulk: Right now, all I want to do is pop that balloon you call a skull...
Community content is available under
CC-BY-SA
unless otherwise noted.