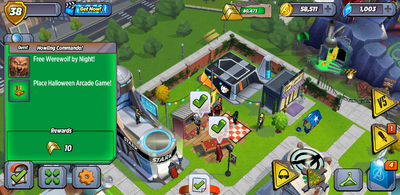 Howling Commando! is an Event Quest and part of the Avengers Halloween Event 2017.
Requirements
Edit
Free Werewolf by Night!
Place Halloween Arcade Game!
Quest Dialogue
Edit
Pre-Action
Vampire by Night: We're about to get you out of here, uncle Jack.
Werewolf by Night: ARRROOOOOOOOOOO!
Vampire by Night: Do you really have to howl in my ear?
Werewolf by Night: Sorry, I've been holding that in for three weeks.
Post-Action
Cap-Wolf: Welcome to Avengers Academy! I'm hoping you can teach me how to best use my werewolf abilities.
Werewolf by Night: The first question is are you willing to be a werewolf full-time? Anyone can be a werewolf during Halloween. It takes real dedication to be a werewolf in the middle of summer.
Cap-Wolf: I mean, I sort of like being able to just turn it on and off whenever I like...
Werewolf by Night: Come talk to me when you're serious about howling at the moon for no reason, and uncontrollably running on all fours.
Community content is available under
CC-BY-SA
unless otherwise noted.