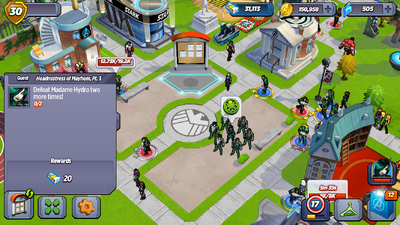 Headmistress of Mayhem, Pt. 3 is an Event Quest and the part of the Civil War Event.
Requirements
Edit
Defeat Madame Hydra two more times!
Quest Dialogue
Edit
Pre-Action
Madame Hydra: Feel free to pretend as though you've taken control of Hydra, and continue to obsess over Captain America. My henchmen and I will complete Hydra's mission...
Red Skull: You honestly believe that they'll follow you over the Red Skull?
Madame Hydra: Soldiers follow leaders. Not petty bullies who look like something I left in the microwave.
Red Skull: They follow who they fear. And as much as they enjoy Winter Soldier's sentimental lyrics and dulcet tones, they fear him far more than any pathetic hag...
Post-Action
Red Skull: That was the first time an Avengers Academy victory has ever brought a smile to my face. I only regret that I allowed you to lead us into a series of repeated failures for so long...
Madame Hydra: This isn't the end...
Red Skull: Correct. This is the beginning of Red Skull's reign over Hydra. You're finished, Madame.
Madame Hydra: Not until I've crushed every single one of you under my heel...
Community content is available under
CC-BY-SA
unless otherwise noted.