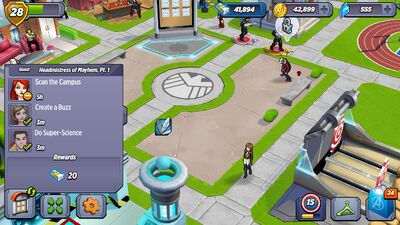 Headmistress of Mayhem, Pt. 1 is an Event Quest and the part of the Civil War Event.
Requirements
Edit
| Character | Action | Time | Location |
| --- | --- | --- | --- |
| Black Widow | Scan The Campus | 5h | Quad (flying) |
| Wasp | Create A Buzz | 3m | Paths |
| Iron Man | Do Super-Science | 3m | Stark Tower (holo display) |
Quest Dialogue
Edit
Pre-Action
Madame Hydra: We need to reevaluate our strategy. We've lost Crossbones, my henchmen are taking a beating, and the heroes have nearly freed all of our hostages.
Red Skull: Until it's clear that Captain America will survive this attack, there is no reason to reevaluate anything.
Madame Hydra: Don't mistake your agenda for Hydra's. We're here to uncover Fury's secret, and steal his power for ourselves.
Red Skull: Who put you in charge? I've always wondered...
Madame Hydra: No one. I took the power from weak men like you.
Red Skull: Fortunately, Dr. Zola has been making me take my vitamins...
Post-Action
Madame Hydra: It's worse than I thought. They're attempting to disable the platform...
Red Skull: Don't worry yourself, Madame. Leading Hydra is no longer your concern.
Madame Hydra: You think you can steal my own organization away from me?
Red Skull: I do. With some assistance from my pawn The Winter Soldier...
Community content is available under
CC-BY-SA
unless otherwise noted.