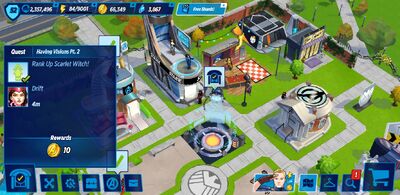 Having Visions, pt. 2 is an Event Quest and part of the Infinity War Event.
Requirements
Edit
Rank up Scarlet Witch! (Rank 2)
1,000 Credits, 25 Mystic Fragments
| Character | Action | Time | Location |
| --- | --- | --- | --- |
| Scarlet Witch | Drift | 4m | S.H.I.E.L.D. H.Q. (inside) |
Quest Dialogue
Edit
Pre-Action
Scarlet Witch: If I'm going to stay here, I need a connection with the city itself, but I can't seem to reach it.  There's something off in the city's energy.
Vision: I assure you that the city's energy is quite healthy.  Mr. Stark powers the five boroughs with arc-reactor technology.
Scarlet Witch: That's not what I meant.  Come on a walk with me.  You'll see what I mean.
Post-Action
Vision: We've perused the city streets for some time.  I can't sense anything amiss beyond the usual imminent destruction and the price of coffee.
Scarlet Witch: You just need to know where to look.  In this case, look in the gutter.
Vision: No thanks.
Scarlet Witch: They're everywhere.  Every street we crossed, every block we saw.  The city's cats are dying, and not of pestilence or famine.  It's the work of magic.
Community content is available under
CC-BY-SA
unless otherwise noted.