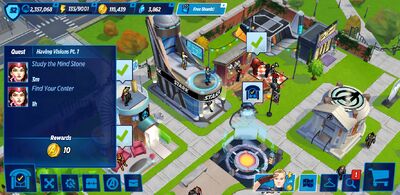 Having Visions, pt. 1 is an Event Quest and part of the Infinity War Event.
Requirements
Edit
| Character | Action | Time | Location |
| --- | --- | --- | --- |
| Scarlet Witch | Study the Mind Stone | 3m | Stark Tower (holo display) |
| Scarlet Witch | Find Your Center | 1h | Thanos' Headquarters |
Quest Dialogue
Edit
Pre-Action
Scarlet Witch: You wield the Mind Stone?
Vision: And it wields me. It gave me sentience, and I give it bass drops.
Scarlet Witch: How can you use something that you don't understand?  Infinity Stones contain incredible power.  They're as ancient as the universe.  Thanos wants them for a reason.
Vision: He can't have the Mind Stone.  I'm still using it.
Post-Action
Scarlet Witch: The Mind Stone made me more in-tune with magic, but it didn't give me my powers.  I want to understand what did.
Vision: I'm afraid I cannot understand forces that do not adhere to the laws of science.  But if you require my assistance, you need only ask.
Scarlet Witch: I was hoping you would say that...
Community content is available under
CC-BY-SA
unless otherwise noted.