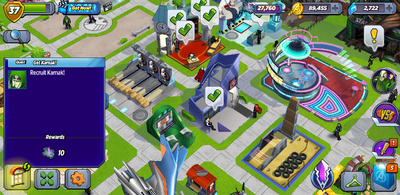 Get Karnak! is an Event Quest and part of the Inhumans Event. It is the Recruitment Quest for Karnak.
Requirements
Edit
Recruit Karnak!
60 Green Terrigen Crystals
5 Cranium Wax
72 Monk Robes
10 Keys to the Tower
Quest Dialogue
Edit
Pre-Action
Medusa: Maximus is after something locked in a vault beneath the campus. I want you to find a way to destroy the vault, and get us inside.
Karnak: If I didn't know better, I would think you were trying to keep me from fighting our mind-controlled king.
Medusa: I know you will have no choice but to fight Black Bolt. Just know that if you take it foo far, you will have to fight me.
Post-Action
Pepper Potts: Welcome to Avengers Academy, Karnak! Is there anything we can get for you?
Karnak: The secret to Loki's dancing.
Pepper Potts: Excuse me?
Karnak: I have the ability to perceive the weakness in all things, but I've watched Loki dance for hours, and can see no flaws. True perfection is impossible. It makes no sense.
Pepper Potts: I don't know what to tell you. I guess practice makes perfect.
Community content is available under
CC-BY-SA
unless otherwise noted.