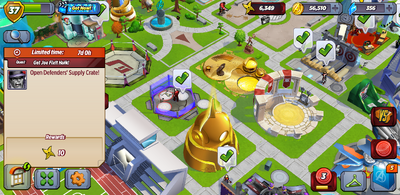 Get Joe Fixit Hulk! is a 7 day Event Quest and part of the Defenders Event.
Requirements
Edit
Quest Dialogue
Edit
Pre-Action
Amadeus Cho: Whoa! What's all this?
Joe Fixit Hulk: A side of me you ain't seen yet. It's grey and smart and Hulk all over.
Amadeus Cho: You have a different personality? And changing your personality changes turns your skin grey? And where did you find a suit in your size?
Joe Fixit Hulk: You ask too many questions, kid. All that matters is Joe Fixit is back in town...
Post-Action
Mobster Wasp: I see you got the memo.
Joe Fixit Hulk: Feels good. It's been a long time since I let ol' Joe Fixit take over.
Mobster Wasp: You sure you're in control? Last time you got grey and suited up, you about tore the town down.
Joe Fixit Hulk: Don't worry about me, boss. I'm in control now more than ever.
Mobster Wasp: Glad to hear it. Now let's get down to business...
Community content is available under
CC-BY-SA
unless otherwise noted.