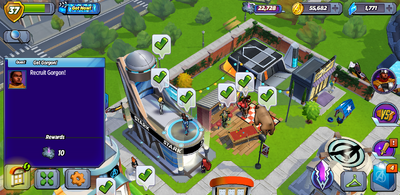 Get Gorgon! is an Event Quest and part of the Inhumans Event. It is the Recruitment Quest for Gorgon.
Requirements
Edit
Free Gorgon!
60 Yellow Terrigan Crystal
10 Customized Pants
54 Metalcore Albums
8,000 Attlian Artifacts
Quest Dialogue
Edit
Pre-Action
Gorgon: I have always admired you, Lockjaw. You are the most Inhuman of the Inhumans. The most powerful of us all. You always find a way to conquer hate with love. How do you do it?
Lockjaw: Wurff.
Gorgon: Amazing...
Post-Action
Pepper Potts: Welcome to Avengers Academy, Gorgon! Is there anything we can get for you?
Gorgon: I'd like to sharpen my skills before attacking Maximus. Is there anyone here I can stomp on for practice?
Pepper Potts: ...I guess Tony's robots.
Ultron: Seriously?
Community content is available under
CC-BY-SA
unless otherwise noted.