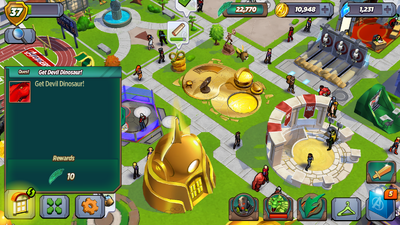 Get Devil Dinosaur! is an Event Quest and part of the Monsters Unleashed Event. It is the Recruitment Quest for Devil Dinosaur.
Requirements
Edit
Level 6 (to start the Event)
Have Hercules Flex Muscles x 1
Have Monster Hunter Black Widow Set a Trap x 1
Collect 50 Black Pterodactyls
Collect 50 Orange Pterodactyls
Collect 50 Gold Pterodactyls
Quest Dialogue
Edit
Pre-Action
Moon Girl: You're free! We're gonna get you everything you need to join Avengers Academy!
Devil Dinosaur: REEEEEORRRAAAHHHHH!
Moon Girl: I know! It's gonna be so cool!
Post-Action
Pepper Potts: Welcome to Avengers Academy, Devil Dinosaur! Is there anything we can get for you?
Devil Dinosaur: REEEEEORRRAAAHHHHH!
Pepper Potts: No problem! We have a second Helicarrier full of food flying in as we speak!
Devil Dinosaur: Rrowwl?
Pepper Potts: I've been learning a little dinosaur in my free time. REEAAEORRRAAAUHHH!
Community content is available under
CC-BY-SA
unless otherwise noted.