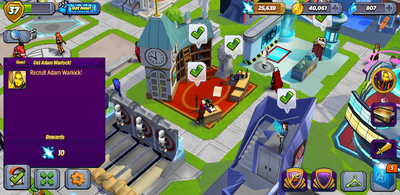 Get Adam Warlock! is an Event Quest and part of the Guardians of the Galaxy Vol. 2 Event. It is the Recruitment Quest for Adam Warlock.
Requirements
Edit
Level 6 (to start the Event)
18 Microphones, 9 Gold Aliens, 48 Guitar Picks, 3,660 Flares
Quest Dialogue
Edit
Pre-Action
Adam Warlock: The Ultra Senses granted by my many rebirths give me the ability to see into someone's soul. I can tell you were born to rock.
Winter Soldier: Probably. I don't remember.
Adam Warlock: We both know light and dark. Death and rebirth. We should combine our poetic powers to tap into the eternal energies, and burn this world's pain in a metaphorical fire of righteous rock.
Winter Soldier: Winter Warlock...
Adam Warlock: Rock on.
Post-Action
Pepper Potts: Welcome to Avengers Academy, Adam Warlock! Is there anything we can get for you?
Adam Warlock: A place to bare my soul through music. A place to rest in my cocoon, and reemerge to bathe this world in the rays of cosmic rock.
Pepper Potts: Have you met Winter Soldier?
Adam Warlock: Yes. Why?
Pepper Potts: No reason.
Community content is available under
CC-BY-SA
unless otherwise noted.