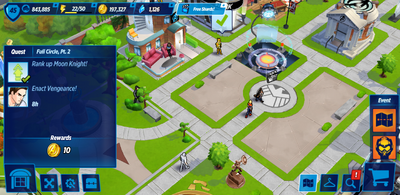 Full Circle, pt. 2 is an Event Quest and part of the Avengers Halloween Event.
Requirements
Edit
Avengers Halloween Event
Edit
Upgrade Moon Knight! (Rank 5)
66 Howling Pumpkins, 14,677 Candies
Avengers Academy 2.0
Edit
Rank up Moon Knight! (Rank 5)
20,000 Credits, 100 Tech Parts
| Character | Action | Time | Location |
| --- | --- | --- | --- |
| Moon Knight | Enact Vengeance! | 8h | S.H.I.E.L.D. H.Q (inside) |
Quest Dialogue
Edit
Pre-Action
Odin: I'm going to continue to tell you that infiltrating the Dark Elves' empire is a very poor decision.
Moon Knight: And I'm gonna go anyway. if you or another Asgardian goes, it could be considered an act of war. If I go, it's just some crazy guy doing crazy guy stuff.
Odin: You have no idea what you're up against...
Moon Knight: Neither do they.
Post-Action
Odin: Did you retrieve the Casket of Ancient Winters?
Moon Knight: It was already gone. Malekith and a crew of followers double-crossed the rest of them, and stole it.
Odin: Where is he now?
Moon Knight: No one knows. But wherever he is, he's with your daughter...
Odin: How do you know?!
Moon Knight: She left her calling card. And a trail of bodies...
Community content is available under
CC-BY-SA
unless otherwise noted.