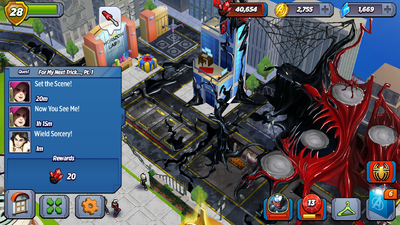 For My Next Trick..., Pt. 1 is an Event Quest and part of the Spider-Man Event.
Requirements
Edit
| Character | Action | Time | Location |
| --- | --- | --- | --- |
| Mysterio | Set the Scene | 20m | The Daily Bugle (outside) |
| Mysterio | Now You See Me! | 1hr 15m | Paths |
| Loki | Wield Sorcery | 1m | Paths |
Pre-Action
Loki: You're the one they call Mr. E.O.?
Mysterio: And you're Loki. The so-called god of mischief...
Loki: I challenge you to a duel!
Mysterio: Dancing?
Loki: Magic!
Mysterio: Oh, that actually makes way more sense...
Post-Action
Loki: You're all parlor tricks and distractions. You might make a fine jester, but don't ever call yourself a sorcerer.
Mysterio: I'm fine calling myself the winner of our duel.
Loki: Please. I exhibited true magic. You stumbled around, and made a raincloud.
Mysterio: And picked your pocket.
Loki: What?!
Mysterio: Who knew you wrote so many heartfelt letters? One to Black Widow. To Union Jack. To the brother you supposedly hate so much. It's so sweet...
Loki: I'll kill you!
Mysterio: I'm sure you could, but not before I yelled your secrets to everyone at Avengers Academy. I'll keep them to myself, and we'll agree that Mysterio won this round...
Community content is available under
CC-BY-SA
unless otherwise noted.