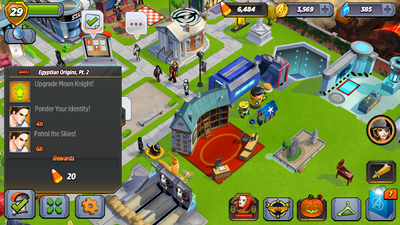 Egyptian Origins, Pt. 2 is an Event Quest and part of the Avengers Halloween Event.
Requirements
Edit
Avengers Academy 1.0
Edit
Upgrade Moon Knight! (Rank 3)
18 Howling Pumpkins
7,753 Candies
Avengers Academy 2.0
Edit
Rank Up Moon Knight (Rank 3)
1,000 Credits, 25 Tech Parts
| Character | Action | Time | Location |
| --- | --- | --- | --- |
| Moon Knight | Ponder Your Identity! | 4h | Avengers Dorm (right chair) |
| Moon Knight | Patrol the Skies! | 6h | Avengers Park (flying) |
Quest Dialogue
Edit
Pre-Action
Moon Knight: I appreciate everything you're doing, Odin, but I'm not even sure I want to get rid of Khonshu. I like being a knight of vengeance.
Odin: And you excel at it. My concern is that the longer Khonshu colonises your mind, the more likely it is that you'll go completely insane.
Moon Knight: It's too late now...
Odin: It's never too late for anything, Moon Knight. But only you can decide if being the protector of those who travel at night is worth the chance of losing your own soul...
Post-Action
Moon Knight: I'm going to keep working with Khonshu. I owe him my life. This is what I am now.
Odin: I respect you decision, and your loyalty. I'll be here if you ever need anything.
Moon Knight: Thanks, Odin. I'll let you know if I ever need your help.
Odin: I hope so. And I hope it's not too late...
Community content is available under
CC-BY-SA
unless otherwise noted.