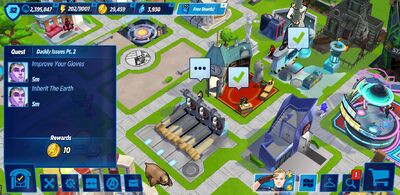 Daddy Issues, pt. 2 is an Event Quest and part of the Infinity War Event.
Requirements
Edit
| Character | Action | Time | Location |
| --- | --- | --- | --- |
| Thane | Improve Your Gloves | 5m | Pym's Lab (Tesla coil) |
| Thane | Inherit the Earth | 5m | Pym's Lab (screen display) |
Quest Dialogue
Edit
Pre-Action
Iron Man: So, Thane! How you doing?
Thane: I'm alright, I guess. Just settling in.
Iron Man: Hmmm, yeah, I guess it would take a while. I wouldn't know. It's like I've always been here. But I've always excelled at everything I do. Even mundane stuff like settling in.
Thane: Huh. I did hear you're kinda the guy to know around here.
Iron Man: I'm not surprised my reputation has preceded me.
Post-Action
Iron Man: I hear you have some pretty sweet power in those hands of yours.
Thane: My hands used to heal, now they kill.
Iron Man: Is the glove I engineered for you working out?
Thane: I haven't accidentally put anyone in a state of living death, if that's what you mean.
Iron Man: Yeah, I'd call that working. But I tend to avoid states of living death as a rule.
Community content is available under
CC-BY-SA
unless otherwise noted.