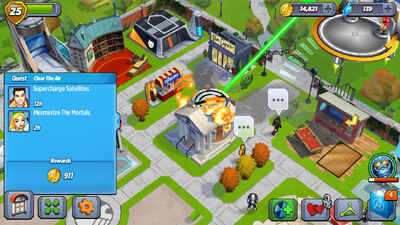 Clear The Air is a Storyline Quest. Enchantress wants Iron Man to clear away part of the Asgardian Zone of the timefog.
Requirements
Edit
| Character | Action | Time | Location |
| --- | --- | --- | --- |
| Iron Man | Supercharge Satellites | 12hr | Stark Tower (holo display) |
| Enchantress | Mesmerize The Mortals | 2hr | Stark Tower (hot tub) |
Quest Dialogue
Edit
Pre-Action
Enchantress: Tony, I need you to use your technology to clear more timefog.
Iron Man: No way. You're always asking me to do stuff for nothing in return, and playing with my hormonally-charged emotions.
Enchantress: What if I were to spend some time in your hot tub?
Iron Man: Together?!
Enchantress: No.
Iron Man: I'll take what I can get.
Post-Action
Iron Man: How was the hot tub?
Enchantress: Surprisingly pleasant. What do you add to give the water such a sweet scent?
Iron Man: Oh yeah. I dropped a chocolate cake in there at breakfast...
Enchantress: That leaves so many questions...
Iron Man: Let me know when you want to get together and talk about it.
Enchantress: Of course. I'll call you as soon as we complete our mission to overthrow Odin, and destroy Avengers Academy.
Iron Man: I still got it...
Community content is available under
CC-BY-SA
unless otherwise noted.