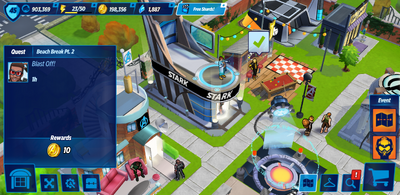 Beach Break, pt. 2 is an Event Quest and part of the Ant-Man and The Wasp Event.
Requirements
Edit
| Character | Action | Time | Location |
| --- | --- | --- | --- |
| Falcon | Blast Off! | 1h | Quad (flying) |
Quest Dialogue
Edit
Pre-Action
Hulk: Volleyball time. Hulk want flying man on his team.
Infinite Falcon: That's me! Awesome!
Hulk: And Groot. Hulk like tall Groot. Hulk want flying lady too.
Hope van Dyne: I guess he means me. Happy to play with you, Hulk!
Groot: I am Groot!
Hulk: Hulk makes best team! Now Hulk smash volleyball!
Post-Action
Captain America: Wow, why are you playing so hard, Sam?
Infinite Falcon: Just got carried away, I guess...
Redwing: Squawk!
Infinite Falcon: I am not showing off! I'm just seeing what this suit can do!
Redwing: Caw caw!
Captain America: What did the bird say, dude?
Infinite Falcon: Nothing, don't worry about it.
Rocket Raccoon: Ooooh. I didn't think that was nothing!
Community content is available under
CC-BY-SA
unless otherwise noted.