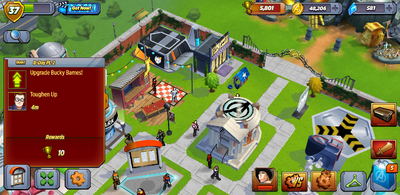 B-Day, pt. 2 is an Event Quest and part of the Multiverse Special Event.
Requirements
Edit
Upgrade Bucky Barnes! (Rank 3)
30 Blue Timegates, 6,770 Trophies
| Character | Action | Time | Location |
| --- | --- | --- | --- |
| Bucky Barnes | Toughen Up | 4m | Avengers Dorm (right chair) |
Quest Dialogue
Edit
Pre-Action
Black Widow: Winter Soldier's over there writing sad songs about the loss of childhood innocence. What'd you say to him?
Bucky Barnes: Watch who you're callin' innocent. I didn't crawl under barbed wire in Germany for two years to get called innocent.
Black Widow: I didn't realize Americans started their operatives off so young.
Bucky Barnes: I lied on my enlistment form, same as Cap. Only the army actually took me. I'm pretty sure they only turned him into a national icon because he was born on the Fourth of July.
Black Widow: That explains a lot.
Post-Action
Bucky Barnes: Feels good to be back in uniform. Lookin' like a boy scout's spiffy and all, but I don't have the temperament.
Captain America: At least you never had to wear tights.
Bucky Barnes: Still, it's nice to get taken seriously again. Everyone who knew 'bout the time I drove a tank through an Axis base is probably dead.
Captain America: The barbershop quartet's gone, but I know someone who's still around.
Community content is available under
CC-BY-SA
unless otherwise noted.