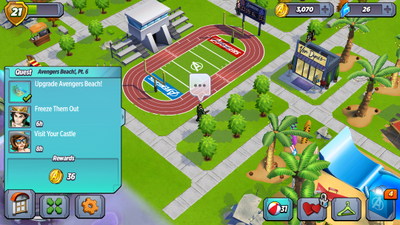 Avengers Beach!, Pt. 6 is an Event Quest. It is part of the limited-time Sun, Surf, and Mischief! event.
Requirements
Edit
Upgrade Avengers Beach! (Stage 3)

Time: 1d 7h
Cost: 100 Credits, 15 beach balls
| Character | Action | Time | Location |
| --- | --- | --- | --- |
| Loki | Freeze Them Out | 6h | Avengers Beach (lifeguard chair) |
| Wasp | Visit Your Castle | 8h | Avengers Beach (sand castle) |
Quest Dialogue
Edit
Pre-Action
Tropical Wasp: Are you ready to party at the beach?! It's seriously the best thing ever. Like, you could just literally stay here forever, and rule your own little kingdom like the rightful ruler you were born to be!
Black Widow: No. None of that. I brought you sunscreen.
Tropical Wasp: You're so sweet! You should totally be my princess! I'll be the queen! We'll bake some crumpets, and imagine the sand is our adoring peasants!
Black Widow: The fact that you said the word "peasants" confirms that Loki's already in your head.
Tropical Wasp: He should be our king!
Black Widow: Rub in the sunscreen!
Post-Action
Beach Humbuggery Loki: You should be hopelessly frozen. A permanent fixture in the first step to my destined design...
Tropical Wasp: Black Widow gave me super sunscreen to combat your magic, so I'm really just chillin'.
Beach Humbuggery Loki: No! Traitors! Ingrates! Saucy rampallions!
Tropical Wasp: You're hilarious. We might as well hang out now that your accursed snowstorm dissipated...
Community content is available under
CC-BY-SA
unless otherwise noted.