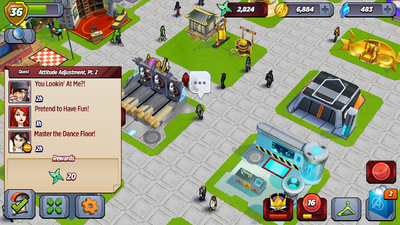 Attitude Adjustment, Pt. 2 is an Event Quest and part of the Daredevil Event and Defenders Event.
Requirements
Edit
| Character | Action | Time | Location |
| --- | --- | --- | --- |
| Punisher | You Lookin' At Me?! | 2h | Club A (roof) |
| Black Widow | Pretend to Have Fun | 1h | Club A (dance floor) |
| Loki | Master the Dace Floor | 2h | Club A (dance floor) |
Quest Dialogue
Edit
Pre-Action
Black Widow: You don't talk much.
Punisher: You neither.
Black Widow: No reason.
Punisher: Nope.
Black Widow: See you around.
Punisher: Sure.
Post-Action
Loki: Keep your indignant expressions to yourself, Punish-Man. The dance floor is a place for Midgardians to temporarily forget their dismal lives, and revel in my mastery.
Punisher: Looks like a place for little liars to get their bones broken.
Loki: You really should incorporate more subtlety into your physical threats. Your lack of creativity reflects badly on the rest of the anti-heroes.
Community content is available under
CC-BY-SA
unless otherwise noted.