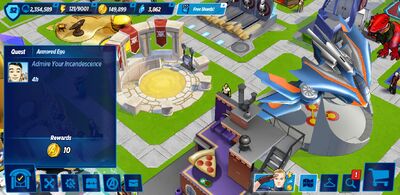 Armored Ego is an Event Quest and part of the Back to School Event.
Requirements
Edit
| Character | Action | Time | Location |
| --- | --- | --- | --- |
| Mandarin | Admire Your Incandescence | 4h | Wonder Auditorium (stage) |
Quest Dialogue
Edit
Pre-Action
Mandarin: Your armored suits are nothing compared to my sweet rings of power.
Iron Man: Really? Can you shoot laser blasts with those things?
Mandarin: Electron, neutron, and sonic. Also infrared. Oh, and electrical.
Iron Man: Damn, that is cool.
Mandarin: Yup.
Iron Man: But can you fly?
Mandarin: Of course! On air that I spin into a vortex and ride like a chariot.
Iron Man: Sounds a little Looney Tunes. Just saying... I fly using rockets on my hands and feet. Rockets.
Mandarin: I thought you of all people would appreciate the ability to manipulate matter.
Iron Man: I appreciate science. And rockets.
Post-Action
Iron Man: So, Mandarin, what good are you if you take off those rings?
Mandarin: What good are you, Tony, if you take off your suit?
Iron Man: I'm the third smartest person in the world. Also exceptionally handsome and generally awesome.
Mandarin: I can channel ancient cosmic chi.
Iron Man: Hmph. Nice bling.
Community content is available under
CC-BY-SA
unless otherwise noted.