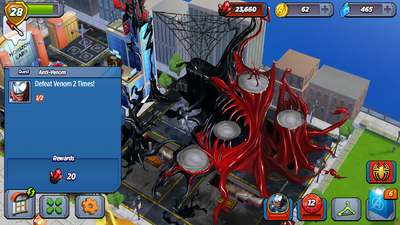 Anti-Venom is an Event Quest and part of the Spider-Man Event.
Requirements
Edit
Pre-Action
Spider-Gwen: Just give up, Venom. Spider-Man wants to reason with you and help Eddie Brock, but I'm only here to kick your teeth in.
Venom: And what big teeth we have...
Post-Action
Venom: You're nothing. We will kill you in this universe just like you've died in the rest...
Spider-Gwen: How do you know that?
Venom: What?
Spider-Gwen: How do you know I died in this universe and others? How many other universes are the Symbiotes in right now?
Venom: We don't have to tell you anything...
Spider-Gwen: Fine. We'll see if you wanna talk more after I drag you around by that nasty tongue...
Community content is available under
CC-BY-SA
unless otherwise noted.