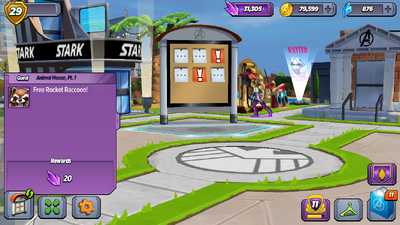 Animal House, Pt. 1 is an Event Quest for the Guardians of the Galaxy Event. Despite Star-Lord's objections, it's time to free Rocket Raccoon!
Requirements
Edit
Free Rocket Raccoon!

Cost: 50 Energy Crystals
Time: 3s
Quest Dialogue
Edit
Pre-Action
Drax: It's time, Quill...
Star Lord: Are you sure?
Drax: I am sure. That's why I said it aloud.
Star Lord: Why don't we wait a little bit? I'm getting cool with some of these Chitauri. I just need some more time to reason with Ronan...
Drax: The time for reasoning has passed, Quill. It's time to free Rocket Raccoon...
Post-Action
Rocket Raccoon: Where's Quill?
Drax: He ran away like a surprisingly fast baby.
Rocket Raccoon: Hurry up and heal me so I can find him. Me and that punk got a score to settle...
Community content is available under
CC-BY-SA
unless otherwise noted.