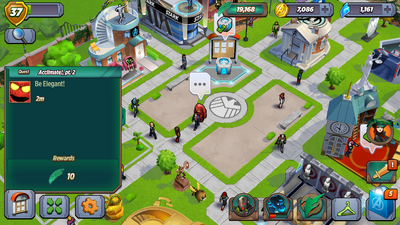 Acclimate!, Pt. 2 is an Event Quest and part of the Monsters Unleashed Event.
Requirements
Edit
| Character | Action | Time | Location |
| --- | --- | --- | --- |
| Orrgo | Be Elegant! | 2m | Club A (dance floor) |
Quest Dialogue
Edit
Pre-Action
Loki: I can't. It's too easy.
Orrgo: What do you want, human?
Loki: Excuse me?! I'm Asgardian!
Orrgo: You all look the same to Orrgo.
Loki: I'm going to destroy you so bad on the dance floor...
Orrgo: Fat chance, human.
Post-Action
Loki: Where did you learn to dance like that?
Orrgo: Orrgo is a triple threat. Conqueror. Dance. Spokesmodel.
Loki: I'm sorry I ever doubted your prowess...
Orrgo: Nobody puts Orrgo in a corner.
Community content is available under
CC-BY-SA
unless otherwise noted.