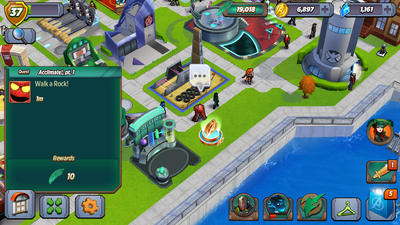 Acclimate!, Pt. 1 is an Event Quest and part of the Monsters Unleashed Event.
Requirements
Edit
| Character | Action | Time | Location |
| --- | --- | --- | --- |
| Orrgo | Walk a Rock! | 1m | Paths |
Quest Dialogue
Edit
Pre-Action
Hawkeye: Is everything going alright so far? You look like you aren't too sure about this place. I think. Could just be the way you look...
Orrgo: You are not mistaken, human. As much as Orrgo was ready to rid himself of his fellow Mentelleronites, he is feeling homesick.
Hawkeye: Have you thought about getting a pet? My dog Lucky always makes things better when I'm feeling down.
Orrgo: Orrgo has never had a pet. Perhaps he should create one...
Post-Action
Wasp: Cute rock! What's its name?!
Orrgo: Orrgo's rock has no name. It is a thing he created to provide companionship.
Wasp: How about Rocko?
Orrgo: It needs no name.
Wasp: How about Orrgo Jr.?
Orrgo: It is an inanimate object given movement through Orrgo's abilities. It does not truly live, therefore it does not require a name.
Wasp: How about Orrgito?
Orrgo: Orrgito is good.
Community content is available under
CC-BY-SA
unless otherwise noted.