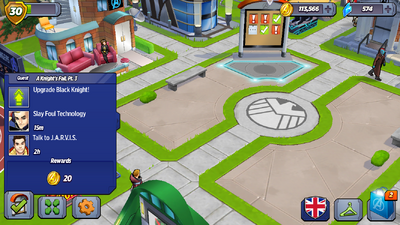 A Knight's Fail, Pt. 3 is an Event Quest and part of the British Invasion Event. Iron Man wants to be "science buddies" with Black Knight.
Requirements
Edit
Upgrade Black Knight! (Rank 2)
| Character | Action | Time | Location |
| --- | --- | --- | --- |
| Black Knight | Slay Foul Technology | 15m | The Timeless Archives (computer) |
| Iron Man | Talk to J.A.R.V.I.S | 2hr (30m with Business Time Tony outfit) | Stark Tower (J.A.R.V.I.S.) |
Quest Dialogue
Edit
Pre-Action
Iron Man: It seems like you're really into the knight thing right now, but I've always admired your work in physics, so I figured we could do some science...
Black Knight: Thanks, Tony. It would be great to get back to science.
Iron Man: Cool. Wasp was a little worried, but I told her you were probably just recuperating from the whole magical curse thing...
Black Knight: Absolutely. I feel better than ever. My heart has always been in the sciences.
Iron Man: Science bros!
Black Knight: Indeed!
Post-Action
Iron Man: You know we only have one normal computer for the whole student body...
Black Knight: It kept offering me free security, but the Black Knight is destined to provide the only security our kingdom needs! These computers are clearly possessed by foul demons!
Iron Man: Good work then I guess?
Black Knight: Knight bros!
Iron Man: I have always liked King Arthur...
Black Knight: I know that guy!
Community content is available under
CC-BY-SA
unless otherwise noted.